This is a FRIENDS ONLY journal, so comment if adding. ♥
Just make sure we have anything in common before adding. After all is my stupid blab you'll be reading XD


If you add me and don't comment I won't friend you back, unless we meet at a friendsmeme, but that is a whole another story.




(
A LITTLE MORE ABOUT ME
Collapse
)
*STILL UNDER CONSTRUCTION*
If you want some more info try my userinfo XD
HERE
.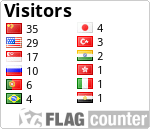 banner by
nishikii
Posted via LiveJournal app for iPhone.
Current Mood:
cheerful