This is a FRIENDS ONLY journal, so comment if adding. ♥
Just make sure we have anything in common before adding. After all is my stupid blab you'll be reading XD


If you add me and don't comment I won't friend you back, unless we meet at a friendsmeme, but that is a whole another story.




I struggled with this for awhile and only now came up with something ~ totally copied from
yue_akuma
but that's OK.
DATAS
Name : Priscilla
Nicknames : pris, pri, pi-chan, priscatisca, prinis
Age / birthday : 25 / july 10
Place : in the mountains
Gender : female
Bloodtype : A+
Horoscope : Cancer
Chinese horoscope : Rat
Occupation : student / lazy ass
Status : single.
PSYCHO-THINGS
What's your philosophy on life? Enjoy life, but not so much you'll hurt yourself or others.
Is the bottle half-full or half-empty? does it matter?
Which country is your spiritual home? maybe Japan ~ the right mix of future and past.
What do you think about the world? It's hard so when it's beautifull we can truly apreciatte.
What is a cookie? Indulgence.
FAVOURITES
Color(s) : Green and red, and blue ~ right now I'm enjoying the beauty in pink/green mixture XD
Movie : Life Aquatic with Steve Zisou.
Book : Grande Sertão: Veredas, from brazilian writer Guimarães Rosa.
Mangas : H2 ♥ and 20th Century Boys
Animes : Samurai Champloo
Video game(s) : anything easy to win, I'm a pussy
Sports : baseball
Food : noodle
Season : winter
Weather : sunny but not so much
Animal : pigs and dogs

OTHERS (working process)
Dramas : Tiger & Dragon, Stand up!!, Buzzer Beat, Tokkyu Tanaka San Go, Shinzanono, Liar Game...
TV shows : Can!jani, Kanpani, Janiben, Life, The Big Bang Theory, X-files, Arashi no Shukudai-kun, Mago² Arashi, CSI, ColdCase, Fringe, ...
Music (not sorted in any kind of preference order) : Bloc Party ♥, Cat Power, Björk ♥, Shiina Ringo, Tokyo Jihen ♥, Franz Ferdinand, PJ Harvey, The Gossip, The Hives ♥, The Subways, The Verve, The Strokes, Yeah Yeah Yeahs, 2NE1, Arashi, Big Bang, Billie Holiday, Cake ♥, Deep Purple, Yes, Halcali ♥, Jamiroquai, Kate Nash, Kanjani8 ♥, Kat-tun, Orage Range, Metallica, M.I.A ♥, Mika, Nujabes, Rip Slyme ♥, Puffy Ami Yumi, Regina Spektor ♥, Substantial, The Mars Volta ♥, Tsujiko Noriko, TOKIO, Pink Floyd, Led Zeppelin, Kraftwerk ♥
FANDOMS
Kanjani8
Fav. song(s) : Brilliant Blue, Osaka Romanesque, Speedy Wonder and pretty much all the rest.
Fav. PV : Musekinin Hero & Puzzle
Fav. member(s) : Yokoyama Yu
Fav. pairing(s) : MaRyo, and all the rest ~ 'cause operation Hanabi rules XD

NEWS
Fav. song(s) : Weeeek and Share and FREEDOM
Fav. PV : Koi no ABO
Fav. member(s) : Kato Shigeaki, Nishikido Ryo, Tegoshi Yuya
Fav. pairing(s) : NishiKato 'cause I like weird pairs.

Hey! Say! JUMP
Fav. song(s) : Your seed - but I'm not a great fan of their songs though ;p
Fav. PV : Hitomi no Screen was pretty cool XD
Fav. member(s) : Yaotome Hikaru, Yabu Kota, Yamada Ryousuke
Fav. pairing(s) : -

Arashi
Fav. song(s) : Modori Ame, and a bunch
Fav. PV : Aozora Pedaru
Fav. member(s) : Aiba Masaki, Ninomiya Kazunari
Fav. pairing(s) : -

KAT-TUN
Fav. song(s) : Message for you, Signal,
Fav. PV : Don't You Ever Stop - but I'm not a great fan of their PVs
Fav. member(s) : Tanaka Koki
Fav. pairing(s) : -

TOKIO
Fav. song(s) : Mr. Travalling man, Sorafune, CRY FOR THE MOON
Fav. PV : Amagasa ♥
Fav. member(s) : Joshima Shigeru (riida's love)
Fav. pairing(s) : -

V6
Fav. song(s) : Darling, Dasenai Tegami
Fav. PV : I'm not very familiar with V6's PVs but I love Good Day!!
Fav. member(s) : Morita Go, Inohara Yoshihiko, Sakamoto Masayuki (riida's love), KEN♥
Fav. pairing(s) : -

Old Jrs. Ikuta Toma, Kazama Shunsuke, Hasegawa Jun ♥
BIG BANG
Fav. song(s) : GoodByeBaby, Dirty Cash, Lies, and a whole lot more...
Fav. MV : How Gee - we can see trendy, funny, blink blink, cool BB in only one MV XD
Fav. member(s) : Everybody ;p
Fav. pairing(s) : -

2NE1
Fav. song(s) : Try to Copy me, Please Don't Go, Kiss, Fire, Pretty Boy, Lollipop
Fav. MV : Lollipop, Fire (street version)
Fav. member(s) : CL
Fav. pairing(s) : -
*STILL UNDER CONSTRUCTION*
If you want some more info try my userinfo XD
HERE
.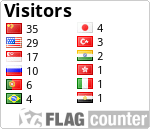 banner by
nishikii
Posted via LiveJournal app for iPhone.
Current Mood:
cheerful